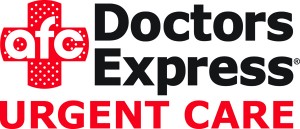 If you are looking for a medical clinic in the Bergen County area, walk into AFC Urgent Care Paramus. We are a health care clinic that provides honest, reliable service and aims towards good health for all its patients. We serve the entire Bergen County area.
No appointment is needed to meet one of our board certified health care professionals. Visit our clinic whenever you need a physician, a lab test or an x-ray. We will see you and treat you as quickly as possible. Our team of licensed professionals, including physicians, nurses and x-ray technicians provide you with the quality healthcare that you expect.
Here are some common issues that Doctors Express treats:
Ear, Nose and Throat Infections and Viruses
Nausea, Vomiting, Heartburn
Upset Stomach and Diarrhea
Headache, Migraine Pain, Dizziness
Body Aches and Pains
Joint and Ligament Discomfort
Minor Injuries: Cuts, Bruises, Sprains, Strains, Burns, Breaks and Falls
Eye Injuries and Illnesses (i.e. Debris removal, Pink Eye, etc.)
Asthma and Allergies
Skin Rashes and Irritations
Pet/Insect Bites
Urinary Tract Infections
Sexually Transmitted Diseases
Immunizations (i.e. Flu, TB, Tetanus, etc.)
Doctors Express provides the following Occupational Health services for employers and employees:
Work Related Injuries/Illnesses
Pre-Employment/Pre-Placement, Executive, Annual and DOT Physical Examinations
DOT and Non-DOT Drug and Alcohol Testing
Mobile Drug and Alcohol Testing
Drug and Alcohol Randomization Programs
Audiometry and Spirometry
On Site Immunization Clinics (i.e. Flu)
International Travel Health Programs
AFC/Doctors Express is able to offer same day physicals:
School, Athletic and Camp physicals
USCIS Immigration physicals
Preoperative Testing and Clearance
Travel medication and all other vaccines necessary to protect one's health can be administered at Doctors Express.
Call us today at 201.262.2010. We are open from Monday – Friday from 8 AM – 8 PM and Saturday & Sunday from 9 AM – 6 PM.
"Like" us on Facebook at www.facebook.com/DoctorsExpressParamus and "Follow" us on Twitter at www.twitter.com/docxpressnj