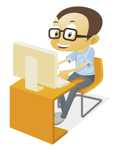 My Personal Geek is a computer and technology support company that goes a step beyond the expected. We specialize in providing individuals with help and support that is highly customized and in plain language. Our aim is to provide you with what you need, in the way that you want it. We understand that not everyone is a technology wiz and we work with you at the speed you desire.
My personal Geek provides services for both MACs and PCs. Our services include:
o Wireless Networking
o Software Installation and Training
o Computer Purchase and Set-up Assistance
o Virus and Malware Removal
o Computer Tune-ups
o Excel Spreadsheets
o Digital Camera and GPS Set-up and Training
o Pairing Mobile Phones and other Devices
o Organizing Computer Files and Photos
o Training on Safety and Use of the Internet and Social Media
We come to you, no need to pack up your computer. We work on your schedule, days, nights and weekends, all at the same hourly rate. Additionally, we work to keep your costs to a minimum.
Contact us at:
Phone: (201) 870-1429
Email: jon@mypersonalgeek.net
Website: www.mypersonalgeek.net