"A good system shortens the road to the goal."
                                    –Orison Swett Marden
I have always loved the harmony of neatness and order.  Growing up, I enjoyed organizing my mother's kitchen and bathroom drawers, and continuously found satisfaction in knowing that everything is in its proper place.
Nothing makes me happier than solving a unique storage or organizational challenge through creative and resourceful ways—especially for the senior population.
I provide services like downsizing and decluttering for older adults, facilitating an easy transition into a smaller home or an assisted living community. For those who decide to move in with a family member, I can help make that living space welcoming and functional for everyone. I work alongside my clients and their loved ones to select, purge, and reorganize a lifetime of possessions; empowering them to begin their new journey in a comforting, safe, and efficient manner.
I consider it an honor and privilege to work with our senior population. It's my goal to make every transition a positive experience so that our seniors can thrive in their new space!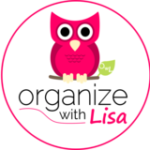 Bergen County, NJ
201-214-0652
Facebook: Organize With Lisa Harris
Instagram: Organize With Lisa